Trying to keep up with each Boris Johnson update is getting trickier. With all the not-so-complimentary news circulating about him, our PM may probably be considering sending out feelers to recruiters – open to opportunities!
Ha! But everyone knows recruiting the best person for the job is never easy. Each recruiter is always angling for the top talent. If you're not taking the right course of action, someone smarter and faster will materialise to snatch the best candidates away.
Thus, even the most experienced recruiters need a bit of help when it comes to quickly identifying the right talent. This is a people-focused but tech-driven industry. Recruitment is challenging enough without being inundated with more CVs than you can handle. And if you have to do all the work manually within a time constraint? A quagmire of confusion, delay and poor-quality work!
So, if you're dealing with a deluge of CVs and having difficulty in processing the next steps then it's time you leverage a good recruitment software system. The best recruiting software is all about less friction and better quality of results. Quickly source candidates, filter applications and discover the personality behind the CV.
Instead of wasting hours on admin duties that are better left to a recruitment management system, invest that time in building a rapport with your candidates. You can only endorse a candidate properly if you truly believe in them. Candidate CVs do not tell the entire story. Stop being reckless with your time by manually going through hundreds of CVs. Get to know the person.
After all, if you like Boris Johnson, you will easily manage to spin an exciting story about his interest in parties, wine, and cheese!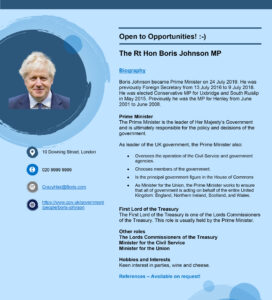 If you're ready to optimise your recruitment process, book a free demo with us today.
Article by Paul.Thompson@VoyagerSoftware.com
---
Voyager Infinity and Voyager Mid-Office are software solutions that make Recruiters' lives easier. Voyager Infinity is a CRM used by thousands of recruiters globally to source, nurture and maintain the relationships with their clients and candidates, and Mid-Office manages the entire Pay and Bill process (IR35 ready).
---