SOME ARGUE THE DATABASE IS OFTEN THE ONLY ASSET AN AGENCY REALLY HAS.
Imagine arriving to your office on Monday morning, finding that the locks to the building have all been changed and a sign on the door informing that a ransom must be paid in order to regain access. It's no joke for those that have been hit by ransom-ware and it's more common than you may think…
"There are a number of variations of the infection, but they all boil down to the same thing. You've been locked out of your data, and if you want it back you best pay up." warns Paul.
Cryptolocker- what to look for? You won't go looking for it, it will find you. Cryptolocker displays this message following complete encryption of all files on the machine.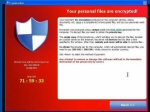 Cryptowall – much more common, but no less devastating. There is no helpful message that files have been encrypted, but the above files appear in each folder containing files which have been affected.
How to avoid the situation
No spam filter / virus software is infallible – Start-up or not, you can't afford this to happen. Ensure you have professional IT support from a reputable provider.
Research your supplier – Credit check the hosting or software provider, speak to your industry peers for feedback and look further than price. Some suppliers have shared servers across many agencies.
Where is your data stored? – Ask your supplier, do you even have access to it?
Flexible Deployment Options – Where is your software installed, does your provider allow you to move the software from the local PC / laptop to the Cloud in addition to offering a SaaS solution?
'Increased choice' gives you extra options – ask the question.
'IT' isn't your thing? – Opt for a cloud-based software solution. If your business critical data is stored in the cloud and accessed through a web browser front end, or through a SaaS client, it should be considerably safer from ransomware viruses than data saved on premise.
Take Backups! – Your data is the lifeblood of your business. Take steps to protect yourself. Choose a supplier that allows you to take your own back-ups.
What to do it you've been infected…
Ransom-ware software such as Cryptolocker and Cryptowall are holding businesses data to ransom. This issue has been seen by prospects and customers alike, and it's on the increase…
Things you may want to think about
Back-Up Tip 1 – Avoid .exe extensions on your documents.Turn off the "Hide extensions for known file types" (a setting in Folder Options) so you can see the renamed and now executable files. I.E. What was once a PDF called timesheet.pdf is now an executable file named Timesheet.pdf.exe and not a pdf document at all. Don't click it!
Back-up Tip 2 – You've got backup software right? Great! When was the last time you checked to make sure that your backups are running successfully? On more than one occasion I've experienced telling a customer that they need to restore files from a backup, only for them to come back an hour later in a panic because their backup software failed 3 months ago and they have nothing more recent than that. 3 months' work down the drain because no one bothered to make sure backups were working correctly.
Back-up Tip 3 – Belt, braces and gaffer tape – Take regular offsite backups in addition to your local backups. Ideally get a 3rd party to do it automatically but ensure you check the back-ups are working and can be easily called upon in a timely fashion.
Back-up Tip 4 – Prompt Disaster Recovery plan. Document the process of getting the back-up live so it can be done in your absence.
---
Voyager Infinity and Voyager Mid-Office are software solutions that make Recruiters' lives easier. Voyager Infinity is a CRM used by thousands of recruiters globally to source, nurture and maintain the relationships with their clients and candidates, and Mid-Office manages the entire Pay and Bill process (IR35 ready).
---