With jobseeker numbers at an all-time high and the number of applications per role increasing exponentially, Recruiters are bracing for the perfect storm. As lockdown eases and a growing number of live positions becomes available, Recruitment agencies must take steps to address their clients' needs swiftly and efficiently to be able to find the best talent fast among an explosion of job applicants and CV submissions.
Let us look at some of the numbers. 
The FT reported that there were 650,000 fewer people on UK payroll in between March and June, whilst CV Library reported a 62.7% drop in vacancies during the same period.
With REC's Job Recovery Tracker announcing that new weekly job adverts are now topping one million following the relaxation of lockdown rules, it's no surprise that Recruitment agencies are really beginning to feel the burden of managing this flood of jobseekers. 
Neil Carberry, Chief Executive of the REC, said:
"Business confidence has slowly been rising as lockdown measures have eased – though the recovery has a long way to go. This is reflected in these job postings figures. While many businesses are facing tough decisions on staffing this week, there are other firms where hiring is still happening, and their numbers are growing. It is encouraging that we are seeing indications of growth for roles like IT professionals and designers, which will be critical for many firms as they adapt to meet the challenges of a changed market.
"However, we are not out of the woods. The economy will not return to normal levels for some time. Firms are looking to government for further guidance on how they can begin to open up more fully, including returning to offices – as long as it's safe to do so. This would deliver a further boost in confidence and get Britain's world-leading services industries going."
The withdrawal of the UK's job retention scheme will only add to the pain. 
The flood of jobseekers and vacancy applications is set to become a tsunami. If Recruiters ignore the reality ahead, there is a good chance they will drown. 
Already, CV-Library is reporting a massive increase in applications per role.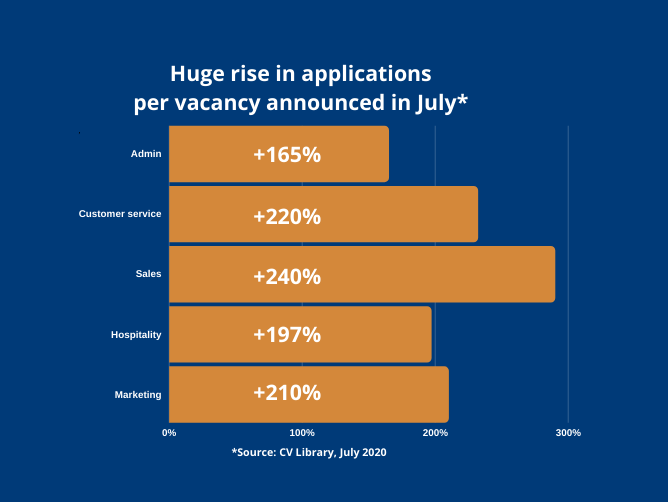 So
,
what is
the solution to the perfect Recruiter storm?
Paul Thompson, Sales and Marketing Director of Ikiru People, announced today:
"To help Recruiters deal with the massive increase of applications per role, we've now introduced Free Online Skills Testing to our leading Recruitment CRM, Voyager Infinity. This allows Recruiters to assess applications quickly and easily within their CRM, pushing successful applications to clients, with all parties involved making better use of their time. There are more than 200 Online Skills assessments available to Recruiters, ranging from MS Office tests to aptitude, verbal reasoning, and psychometric profiling."
If your Recruitment business is based on the "no win, no fee" model, then you will need to do more to find that needle in the haystack – or, as is the new reality, that needle in the field of haystacks.
Book your demonstration today to learn more about Voyager Infinity with FREE Skills Testing.
---
Voyager Infinity and Voyager Mid-Office are software solutions that make Recruiters' lives easier. Voyager Infinity is a CRM used by thousands of recruiters globally to source, nurture and maintain the relationships with their clients and candidates, and Mid-Office manages the entire Pay and Bill process (IR35 ready).
---