Guest Blog

– Terry Edwards, Drew Coaching -Stop Giving Money To Your Competitors…
If you would like to discover how you are unwittingly giving money to your competitors, then please read all of this and take ACTION!
What I'm about to share with you is a very important area that is being overlooked by most of your competitors.
So I'd urge you to take this very seriously, as right now you're probably losing money because of this, and lots of it.
You have prospects and candidates calling your office that you'll never hear from again, but your competitors will.
You have prospects and candidates going to your website or LinkedIn profile that you'll never hear from, but your competitors will.
You have prospects and candidates that speak to you and email you that you'll never here from again.
I am sure you get the idea…
The fact is there are huge opportunities that if not acted upon, are costing you lots of money.
The good news is you can act on these opportunities; and see huge increases in your revenue and profits, and the good news is, they don't require vast or elaborate systems.
Below I'll go through the three areas and briefly show you how to plug these holes in your 'money bucket'.
1. Lost Inbound Phone call: As much as 85% of the time this is exactly what happens when someone calls into your office, be it actually coming to your office or via email or phone.
The issue with this hole is that it's often disguised as good customer service.
For example: If a prospects and candidates calls and asks for directions, career advice, job opportunities or your terms o business. Most of the time the Recruiter gives the information and then just goes about their day. This was a lead capture opportunity that was missed and money just slipped through a hole in your bucket.
The remedy is a call script. Remember, professionals don't "wing it" and REAL smart Recruitment/Search firm owners certainly don't let their part-time, 17 year old receptionist "wing it" either.
An example:
After the caller asks their question, you/your employee says:-
"I'm happy to answer your question. May I have your name please? Before we take care of your question can I get your email address to send you our FREE/Complimentary (insert eBook title here.)"
2. Web Site/LinkedIn Visit – No Action: To be clear here, this is not about the number of visitors you get. You don't get paid for hits or even traffic.
However, you will get sales and money from getting details of those that have visited your website or LinkedIn profile if you are smart. Even if you only advertise positions you're looking to fill (which is not recommended), you don't make money unless people actually click on something and leave their details.
Do you know what percentage of prospects and candidates come to your website or your LinkedIn profile and leave without you ever getting a single piece of information from them?
If you don't know the answer to that, consider this
Some of your competitor's get 60/80 leads a month just from their website
Yet at the same time, but some recruitment/Search firm owners only have old contact details on their LinkedIn profile
And if you think that is bad…
Incredibly some Recruitment/Search firm owners don't even have their contact details on their LinkedIn profile.
And the odd Recruitment/Search firm actually say on their profile,
"Unless I know you, I will not accept your offer to connect".
WTF
Can you imagine if you went to a retail outlet and they said – "we only let you buy from us if we know you?"
Every web site/LinkedIn profile visitor should be viewed as a potential client or potential candidate. Not getting their details cost you and that is money spilling out of a hole in your money bucket, and into the pockets of your competitor.
3. NO Follow Up – This is the most obvious hole and the one people feel the pain of most often. You need to understand that there are a variety of reasons why a prospect fails to buy your recruitment service. It does NOT mean that they are a bad prospect.
There are a variety of reasons, why a prospect isn't in the position to engage your service and that's OK.
For these reasons, your 'Follow Up' is key to your success in eventually winning over the prospect.
According to research, amazingly only 20% of sales leads are ever followed up …
In other words 80% of potential opportunities are lost without trace simply due to lack of follow up."
If you want to change that, read on….
Here are some stats that should open your eyes to the importance of 'Follow Up'.
• 44% of Recruitment/Search people give up after one "No"
• 22% give up after two "No's"
• 14% give up after three "No's"
• 12% give up after four "No's"
Simply put, 92% of Recruitment/Search people throw in the towel after being rejected four times and only 8% of Recruitment/Search people put themselves in a position to ask for the business a fifth time.
That means that 8% of the Recruitment/Search people are getting 80% of the sales.
If you are an Owner or Director of a Recruitment/Search business and would like to discover the secrets to..
• Generating more leads
• How to get new business without cold calling
• Working less and earn more
• And so much more to help you grow your business
Then go here www.drewcoaching.com and get you FREE paperback book '7 Deadly Threats To Your Recruitment/Search Business' you will have to be quick as there is a limited number available free.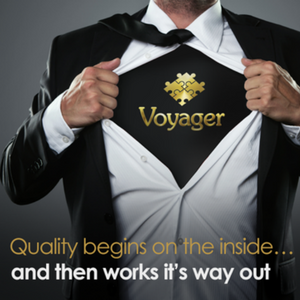 ---
Voyager Infinity and Voyager Mid-Office are software solutions that make Recruiters' lives easier. Voyager Infinity is a CRM used by thousands of recruiters globally to source, nurture and maintain the relationships with their clients and candidates, and Mid-Office manages the entire Pay and Bill process (IR35 ready).
---