The Recruitment Agency Expo will take place at ExCeL London on 21-22 March 2023. As the UK's biggest recruitment event, the two-day programme brings together members of the staffing industry for a packed agenda of networking, presentations, and practical seminars. There's also an exhibitor hall with dozens of vendors and suppliers to the recruitment sector, and tickets are free for attendees.
With time at a premium for agency owners and managers, justifying days out of the office is always tough – but the Recruitment Agency Expo offers some of the best value for business leaders in the recruitment calendar.
Here's how staffing professionals benefit from the time invested in attending.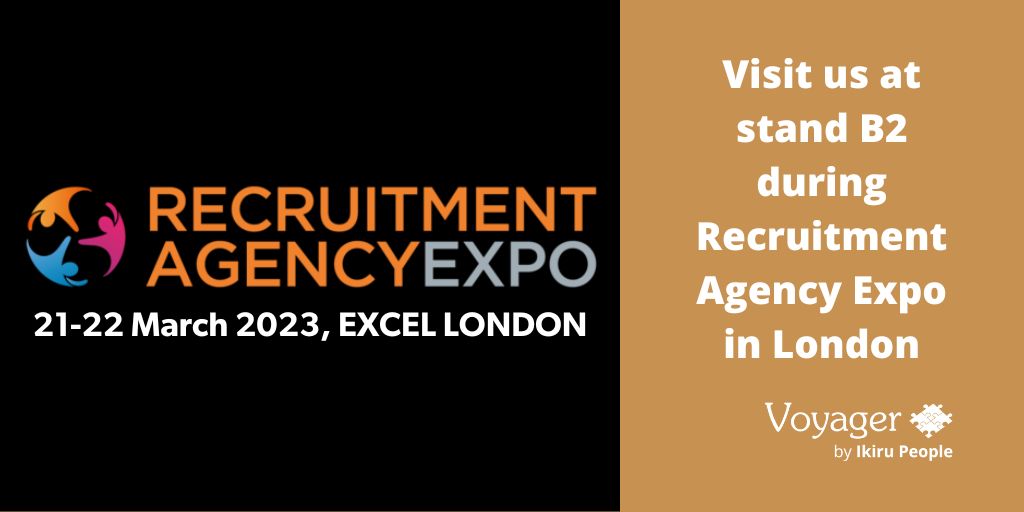 Anticipate trends
Things move fast in the world of recruitment – new competitors spring up overnight, innovative technologies change the way agencies run, and outside forces shape the market.
What's 'always worked' up until now may be about to change, and every business should be aware of the shifting climate in which it operates.
The Expo's session programme always provides business managers with a detailed discussion of the biggest and most significant trends currently affecting or poised to impact the sector, presented by experts from a variety of angles.
Benchmark your tech stack
The Expo is the biggest gathering of technology vendors in the industry, featuring market leaders and up-and-coming innovators looking to disrupt the status quo.
Everyone knows great tech can bring huge benefits to a business – from driving top-line growth to delivering game-changing efficiency – but few people have the time to vet and explore every tool on the market.
A supplier hall solves the issue, allowing business owners to see, question, and demo potential value-add software solutions that could enhance their agency performance.
No other event offers the same breadth and depth of suppliers in the same place at the same time, and it's a golden opportunity for recruitment agencies to see what's new in the world of candidate sourcing, recruitment process automation, online skills testing, and much more.

Meet strategic partners
It's not only software companies promoting their wares – the event is well attended by a range of specialist support and consultancy firms as well, each of whom specialises in a different area of recruitment agency growth, development, and advisory.
This includes legal experts to navigate unfamiliar territory or provide expert guidance on common regulatory obstacles, specialist debt recovery companies, financial advisors, and lenders dedicated to the staffing sector, to name just a few.
Get inspired by insightful presentations
Most recruitment agencies run at a hundred miles per hour. The day never seems to start early enough, and there aren't enough hours before the next one starts…
This leaves many business owners in a perpetual sprint, focused on playing the situation immediately in front of them and lacking the time to step back, assess their development and consider the big-picture strategic opportunities they may be missing.
The immersive experience of the Recruitment Agency Expo helps senior recruitment professionals take this important time out to re-think their strategies, framing their current trajectory through a wider commercial lens.
Presentations and workshops at the Expo cover topics such as recruitment growth strategies, employee engagement and retention, business development and candidate sourcing.
One such eye-opening presentation takes place in the Training Zone on 21 March at 16:15 entitled: Executive Sourcing Beyond LinkedIn.
If you want to make more successful placements and source the best talent faster than your competitors, make sure to attend this session! Here's a fact for you: when targeting passive candidates on LinkedIn, you will get different results based on your subscription level. Even with the most expensive LinkedIn account, even the most sophisticated users will likely miss out on many of the best candidates. In this must-attend and engaging session, Jason Starr from Ikiru People will demonstrate real examples of different approaches to finding candidates on LinkedIn and beyond.

Expand your network
In addition to a wealth of suppliers and advisors, there are also abundant networking opportunities at the Expo to meet with other recruitment businesses and industry professionals. Whether it's discussing cross-sell and collaboration potential, strategic partnerships or simply comparing notes and sharing war stories, it's a rare opportunity to connect with fellow entrepreneurs, senior managers, and experienced industry pros.
The event draws attendees from across the recruitment world, from fast-growth multinational agencies to SMEs, and represents specialisms from high street staffing to high-end executive search firms.
This blend of participants creates a diverse networking environment where ambitious agency leaders can pick the brains of those in other spaces, learn from businesses at different stages of their growth journeys, and come away with valuable new contacts and perspectives.
This year, Voyager Software and Talentis CRM, both Ikiru People brands, will showcase their products at the upcoming Recruitment Agency Expo – come visit us at the stand B2 (right at the Expo entrance) on 21-22 March and see how we may help make your business succeed!
Register for your free ticket here.
Looking for recruitment software at the show? Contact us today to arrange your live software demo at the stand.
---
Voyager Infinity and Voyager Mid-Office are software solutions that make Recruiters' lives easier. Voyager Infinity is a CRM used by thousands of recruiters globally to source, nurture and maintain the relationships with their clients and candidates, and Mid-Office manages the entire Pay and Bill process (IR35 ready).
---