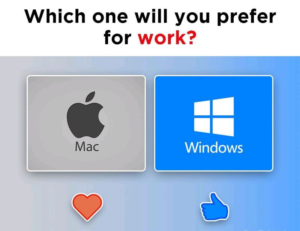 Recruitment software that runs on a Mac. Isn't that a Recruiter's dream?  
Most Recruiters know they need more than a browser–based system to be competitive in today's world, but hey, we're not going to go there!  We have a Recruitment Software solution that Apple Mac users will also love. 
Did you know you can be married to Voyager, whilst having a love affair with your Mac?  
Few people realise this, but Windows applications such as Voyager Infinity SaaS can be deployed in several ways, provided it's running within a Windows operating system. It's recruitment software that works on Mac computers just as well. 
So how can I use Voyager Infinity SaaS on my Mac?
Introducing Boot Camp by Apple: 
Boot Camp is a utility that comes with your Mac and lets you switch between macOS and Windows OS. Download your copy of Windows 10 Pro, then let Boot Camp Assistant walk you through the installation steps for Intel-based Macs. Get started 
Once you have Boot Camp installed on your Mac, you can use all your favourite Windows products running in parallel. 
One of the challenges we face with Boot Camp users is that we can't often even tell if the user is working on a Mac. All we see is a Windows application working on a Windows operating system, running Microsoft Office 365. 
Technically, there may be a few issues when running Voyager Infinity in this way. Sometimes screen resolution can be a slight issue but nothing that your IT savvy friend couldn't resolve for you. 
So, there you have it – Voyager Infinity, a Windows application recruitment software running on a shiny Apple Mac. 
PS: If you'd rather run Voyager on a Windows machine, we're happy to post you an Apple sticker and some white paint – who would know? 😊 
How to install Windows 10 on a Mac using 

Boot

Camp Assistant
We even have Infinity Connect – 

for 

iPhone & iPad

!