The answer to the question "what is the best recruitment software for agencies in Australia?" is simple:  There isn't one.
We work with hundreds of recruitment agencies in Australia  and know that each agency is different. Recruitment software can deliver to the needs of every kind of placement agency. However, it is crucial to understand and process client requirements based on the different business types. The CRM, database and software needs of an agency placing candidates on a permanent basis in professional positions will be different to the needs of a temps agency placing workers on short term shifts, to a retained executive search firm placing CEOs – and all are very different to a talent acquisition team within large enterprises seeking to recruit graduates via employee referrals and a career site.
While there may be a long list of recruitment software suppliers to choose from, none can genuinely claim to offer the "best software for recruitment agencies."
Recruitment agencies are different. Recruitment software is too.
As a result, rather than give you a simplistic answer designed to get you to purchase our software, I thought I'd lay out some of the key criteria to factor into your decision making, based on what I've seen working with our recruitment agency clients.  I'd like to thank the various recruiters I spoke with, who went on record for the article, plus my colleague, Stuart Smith, who looks after our clients in Australia from our offices in Sydney, Australia, for his assistance.
Of course, nothing is better than hearing from an expert, and you'll find various comments from our recruitment agency clients below – or many more real recruitment software reviews on our Trustpilot page, or ask for a live demonstration with our team – you can also reach our office in Australia on +61 (0) 2 8322 8111.

From recruitment database to recruitment CRM to…
As noted above, the phrase "recruitment software" covers a wide variety of audiences, but it also covers a wide variety of functionality. Traditionally, the primary use case for these systems was to be a database.
Software buyers would want to store data on candidates and clients, so suppliers focused on developing a recruitment database to store that information in. Today, in certain markets, that remains the case – in some niches – developers, for example, publicly available data on candidates is scarce, and so storing data internally is vital. In other spaces – executive search, for example – tools such as LinkedIn mean that the need to store biographical information is reduced.
Moving on from the recruitment database, the next major development was the recruitment CRM. Essentially, this took platforms beyond storage and retrieval of people data, and into a world of relationship management.
Recruitment companies wanted more time to concentrate on the actual art of recruiting and relationship building. This opened the need and opportunity for platforms that focused on delivering streamlined services. 
Now recruiters can not only store and access candidate details in a matter of minutes but also benefit from providing tailored services to their candidates. The hiring process and candidate experience have changed with the introduction of modern recruitment software. It is less time-consuming and more efficient.
"The detailed candidate page ensures that we contact them about roles which really match their requirements," says Katie Bevan, Managing Director of People First, "We can access all communication history easily so that even when their dedicated consultant is away, the rest of the team can understand their background and aspirations. We can set up templates on the system, so they receive helpful interview tips, interview details, and vital company information easily. Most importantly, it allows us the time to really get to know and understand them so that we can offer tailored career advice and support."
All modern cloud recruitment software will include aspects of the recruitment database and recruitment CRM. However, other areas of functionality will be vital in certain niches, and meaningless in others. For example, in retained executive search, online research and candidate sourcing functionality is a key. This would not be valuable to an agency specialising in the placement of temporary staff. On the other hand, the temping agency would look for pay and bill functionality, and timesheet management – functionality that search firms do not care about.
As a result, we need to look at functionality requirements on the basis of the type of recruitment service provided.

What do recruitment agencies placing permanent staff look for in software?
The key challenges faced by perm agencies revolve around the front office. You'll need to identify candidates, identify clients and bring the two together. A recruitment CRM designed to do this will include these essential recruiting tools:
Integrated job boards
Automatic CV parsing and formatting
Automated emails and messages for candidate development and recruitment marketing
Access to skills tests
Social media connectivity (particularly LinkedIn!)
Cloud-based for ease of management
What about agencies placing temporary staff on shift-based contracts?
Recruiters involved in the placing of temps face a whole host of different challenges. The major challenges comprise candidate management and applicant dishonesty. Temporary recruitment agencies are constantly dealing with issues rising from lack of candidate visibility which makes it extremely challenging to find and place candidates. Speed is of the essence when placing temps.
If your business engages temp workforce, you will need to pick software that has these key functionalities:
Simple booking and sheet planners
Easy candidate communication
Skills tests
Track time and attendance
Integrated online timesheet entry, authorisation and approval
Automated compliance checks
Produce self-bill invoices
Amber Employment Services, one of the many agencies we work with, places many temporary workers for their clients. Skills testing has a huge impact on the temps industry. Rebecca Bannerman, Director of the recruitment firm, shares how Voyager Infinity has improved candidate experience.
"The candidate's experience is significantly improved. In today's market, candidates are looking for brief, informative and engaging hiring experience. It's simple, it's stress-free, candidates can email their assessments with an easy to follow link, and results are automatically filtered through to our database for review. Candidates can complete the tests in the comfort of their own home at any time. We find that it's a huge benefit as candidates are far more at ease, and clients get a true picture of their capabilities in a virtual office setting."
What is the best software for recruitment agencies placing candidates on contracts?
Recruitment firms specialising in placing contractors understand the value of speed and efficiency. These are vital when you have to find the best candidate with some specific requirements within a short time frame. And despite IR35 legislation being pushed to April 2021, the responsibility of engaging IR35 compliant contractors still falls to the recruitment agencies supplying the services of these workers to the clients.
Contract recruitment agencies need these key features in their software:
Online timesheets
Candidate availability planner
Skills testing
Raise sales invoices for contractors
Comprehensive compliance and right-to-work checks and management systems
Here's Clayton Dempster of contracting agency BRS Jobs on the impact of Voyager Infinity on his business:
"It took me 5 years with my first agency to get to the point where we're at now with BRS in only 18 months. We have a great team environment, great partners and we're ready and primed for the fight for the best perm, contract and temp talent."

What is the best recruitment CRM for retained executive search firms?
Retained search firms operate very differently to contingent search firms. The recruiting process can take up to 90 days, is project-based and is research intensive. Functionality for this type of recruiting will include:
A database structure that treats "People as People" and doesn't artificially differentiate between "Candidates" and "Clients".
The ability to quickly source candidates from sites such as LinkedIn and GatedTalent.
Extensive reporting functionality, including both traditional printable / emailed reports, and online client portals.
The ability to track relevant KPIs including "days to shortlist" and key candidate and sourcing ratios.
Retained executive search is so different to other types of recruiting, that we actually encourage potential clients not to buy from us – we have a sister brand – FileFinder – which is dedicated to delivering the best software for retained executive search.

It's not just about the CRM!
I've talked about some of the key requirements that you might need to consider when selecting the best recruitment software solution for your agency. I've tried to go into detail based on the different business models used by agencies – but even this is over simplistic.
For a lot of niche recruiters, a major driver is being able to put forward candidates who are proven to be a good fit for the role. In this context, lots of recruiters will look for a recruiting CRM that integrates with skills testing software that allows them to validate the ability of the candidates that they propose.
It's also not an ATS!
This article is about the software used by recruitment agencies. As in, companies which exist to recruit top talent on behalf of hiring managers at the clients' end. These staffing agencies have entirely different needs to that of a Fortune 500 company looking to buy a system for managing job seekers – so-called "active candidates" – and, as a result, an entirely different type of recruiting platform – the Applicant Tracking System (ATS).
While there are some similarities – support for job postings, for example – recruiting tools designed for the recruitment firm will require some things that the end client will not – business development, is a good example. On the other hand, the reverse is also true. Lots of ATS systems have talent management functionality bolted on.

What about the technology – Cloud or on premise?
Essentially staffing software is delivered in one of two ways – either through the Cloud or "On Premise".  Cloud based solutions essentially see all of your data stored (backed up, etc) by your software supplier (or their partner).  On Premise solutions are those that are hosted by your firm, on a server in the corner of your office (or run on your local machine if you are a sole trader).
The vast majority of modern recruitment software is cloud based, and sold on the SaaS model.  SaaS which stands for "Software as a Service" is a combination of a technology model (hosting your candidate and client data in the cloud) and a commercial model (rather than buying the software, you rent it.  Your upfront cost is typically much lower with SaaS solutions, but you will pay for it in perpetuity).
Some of the more flexible systems (including ours!) offer the option of either Cloud or On Premise solution, so you should determine what works best for you and then find a solution that delivers on your needs.
So, which is the best recruitment software supplier for Australia?
There is one thing that every recruitment agency should seriously consider when selecting a new CRM software. Support. We recently conducted a survey where 50% of our responders stated that a supplier's quality of support plays an important role in their decision making. 
Your new database is a business-critical application. You are dependent on it. If it's not available, or your users are not able to operate it, you have a major problem. It doesn't matter how powerful the functionality if you can't log in.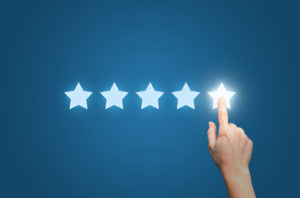 The same survey results pointed out that more than 50% believe that the supplier reputation is just as important as the product in making a new vendor. This is why I'd recommend that you look beyond the software and look at the supplier.
"It was important to have a supplier who was recognised in the industry, had a good reputation, provided continual training and support," says Lorraine Ragosa-Rout, Managing Director of F4P Recruitment, who has been using Infinity for more than a decade now.
Voyager Software is delivered by Ikiru People. We are part of a global public company, supporting recruitment agencies in more than 60 countries, including Australia and New Zealand. We work hard to deliver the best support and – unlike virtually any other mainstream supplier – we ask our clients to validate our efforts through Trustpilot. 
At the time of writing, we have an overall score of 4.5 out of 5 stars from 224 independent reviews. I'd suggest that – while there may be no single "best recruitment software" there is a strong argument to say that there is a "best recruitment software supplier" and that we are it! 
And which is the best recruitment software for your agency?
If you've made it this far, I think it's reasonable for me to assume that you are in the market for a new recruiting CRM. So, what is best practice for making a buying decision?
Firstly, choose a shortlist of vendors. Obviously, you'll want to include us in that list (!), but hopefully you'll find others based on some of the advice we've provided above.
Ask for a presentation. All of the mainstream suppliers will do a live demonstration, and it's a great opportunity to ask questions.
Don't limit your questions to product functionality. The software needs of your agency will change over time, and so will the functionality of your chosen product. However, you need to maintain a close working relationship with your chosen vendor – probably for a decade.
Each company has distinct needs. The quest for the best recruitment software is contingent on their business model, company culture and vision. 
For People First, the priority was to embrace technology in order to compete effectively in this competitive industry. MD Katie Bevan further says, "We wanted our consultants to achieve their full potential and not be held back by time-consuming data input. Additionally, in an industry where regulatory compliance is increasingly important, technology was one way to ensure that we were adhering to our legal requirements and best practices without increasing our employees' workload."
How do you overcome challenges when you onboard a new recruitment software?
This is where the importance of support and training come into play. Not everyone will adapt easily to new technology. Some might find their recruitment software to be too complex or with long-winded steps which can make the transition challenging. 
Choose a supplier who has a consistent record of providing excellent support and training. Even if the onboarding is complete, don't hesitate to reach out to your service provider if you continue to struggle.
Kristi Vaisto of Vaisto Recruitment has been using Infinity for some months now and says, "Some of the functionality was different from what we were used to. But any queries we had were answered quickly and promptly by support staff."

Questions to ask your shortlisted recruitment software suppliers
As a result, look beyond the demo – here are some good questions to ask about the ability of a supplier to support you:
I'm in Australia (or New Zealand or the UK, or wherever!). When I call for support, who will answer the phone? Can I get a full support service in my time zone? Keep in mind that the choice of best recruitment software Australian firms might reach is likely to be different from the decisions taken by recruitment agencies in the UK. It is imperative to get strong support from your supplier.
Where will my data be hosted? If you are in Australia, that's where you should expect your data to be. If you are in the UK, expect your data to be in the UK. The further away your data is, the longer it will take to reach you. As an aside, if you are in Europe, be very careful about selecting a supplier who is not. GDPR compliance might not be a priority for your part of the world, but GDPR applies strictly in Europe!
Speaking of which – your software system plays a key part in achieving legal compliance. How much does the vendor know about the law as it pertains to what you do? Ask about GDPR. Ask about IR35 (if relevant to your business). If the salesperson can't answer your question, it's very unlikely that the support representative will be able to!
How many staff do you have? Where are they based? Since when have you been trading? How are you funded? Can you convince me that you will be here for the long term?
Ask for references. It is important to bear in mind that any references you are offered are likely to be targeted. The sales representative will target happy clients! For more "genuine" or independent recruitment agency software reviews, I'd suggest you consider Trustpilot or similar.
To summarise the points laid out in this article, I have prepared an easy guide to facilitate your recruitment software buying journey.
I hope you've found this article helpful in helping you determine which of the myriad options is the best software for recruitment agencies in general – and your agency in particular. We'd love to talk to you about how we can help with your technology needs. To schedule a demo, get in touch with our team in Sydney on +61 (0) 2 8322 8111, and don't forget to check out the independent recruitment software reviews on our Trustpilot page!