Candidate relationship management is vital for the recruitment team of every organisation. Building a positive experience for the candidate as they start their recruitment journey is highly important. More than that, a positive candidate experience can help you bring in more candidates to your organisation. To keep staying ahead of this competing job market, you need to reap all the possible benefits of a CRM.
The main advantage of using a CRM is integrating it with other tools to help you provide enhanced functionalities. These features can assist you in making the candidate management process more straightforward.
Paul at Voyager Infinity recently said, " People are key to any business. Companies will hire experienced recruiters with deep knowledge of their sector to find the best talent for the role. And without a doubt, recruiters need the technology to help deliver their client's expectations. Whether it is to reduce admin work or keep up with evolving compliance checks, smart recruiters use recruitment software to get more done with less effort."
It can be integrated with various tools, such as social media, calendars, emails, and digital signatures. The adaptive function of CRM makes it easy to integrate and use with the required tools for your organisation.
A multi-poster tool is one of the most necessary tools for recruiters. It helps the recruiter post job adverts on multiple job boards and social media channels with a single click. A multi-poster tool makes their lives easier and gives them the freedom to access numerous job boards without manually having to post all the job adverts.
Benefits of CRM and Multi-Poster Integration
Integrating a CRM with a multi-poster can help you handle your candidates with ease without compromising their candidate experience. You can get all the benefits of using a CRM and use the features of a multi-poster to get the desired results without any hiccups.
The following are the benefits of a CRM working with a multi-poster platform.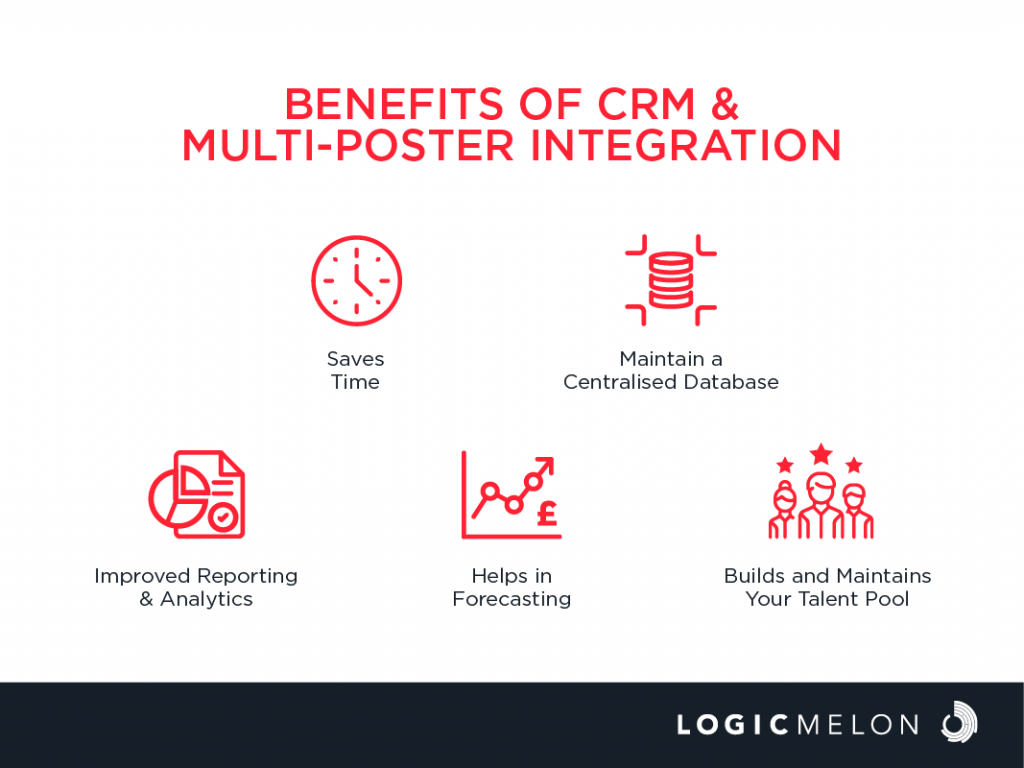 Saves Time
As a recruiter, there is no shortage of necessary tasks. Most of the tasks may seem monotonous and consume a lot of time. These tasks include:Follow-up communication with the candidate after the initial contact.Setting up interviews with the organisation.Sending timely updates about the candidate's progress.While tasks like these are easy to handle with a limited number of candidates, that is not the case when an organisation recruits in bulk. They have to manage many candidates and ensure that they do not have a poor recruitment experience.Communication is the core part of any relationship. It is the same with handling candidates. One of the main benefits of CRM is that it can be leveraged to manage all your communication with the candidates. Automated communication saves time for the recruiters' and helps them stay on top of communication at all times.A job multi-poster helps post the same job advert on various platforms. Manually working on it will consume a lot of time. A multi-poster will make the task much easier. In tandem with a CRM, the process becomes even more seamless.
Maintain a Centralised Database
In the recruitment process, there are many stakeholders involved. Each stakeholder can be applied at various stages of the recruitment funnel. The candidate has data associated with them. Various stakeholders may need to review this data at different times.
One of the benefits of CRM is that it maintains a complete profile of the candidate, which all the stakeholders can access. Instead of maintaining a manual database with each candidate's information and having to update the data every time. It is better to have a centralised database that everyone on the recruitment team can easily access.
The centralised database will also have the details of all the job descriptions and the previous roles the candidate has applied for from the same organisation. Integrating a CRM with a job multi-poster will make it easier for the recruiters to assess the candidates and their growth.
This centralised database can help you manage all the data. It can even identify candidates about their application, the dropoff rate, skill level, specific keywords in their resume, and the sourcing platform. This data will also be added to the candidate profile.
Improved Reporting and Analytics
Collecting data on a candidate can only be helpful if the recruiters can draw some insight from it. CRM can project data regarding the candidate in ways the recruiters require. Reports could be of anything. They can show the number of candidates who looked at the job adverts but never applied.
Analytics like these would mean a problem in your application process. Insight such as these can lead you in the right direction to course-correct your recruitment strategies.
CRMs have built-in analytic functions that recruiters can customise per the organisation's needs. There is plenty of data to analyse regarding candidates and their interactions with the organisation. These analytics help the hiring managers plan ahead for their recruitment campaigns.
Gaining a report on the performance of your job adverts to various sourcing channels will help you to understand the platform that brings in more quality candidates and also assess the quantity of candidates from each channel.
These reports can offer you a new perspective on your recruitment plans. These insights can showcase the flaws of your hiring process, reveal the areas that need improvement, and point out the recruitment aspects that work for your organisation. This data can drive you to make the proper decisions for your organisation.
Helps in Forecasting
As mentioned earlier, one of the benefits of CRM is that it can offer valuable insight that can help the organisation make an informed decision. Data on the candidate can go a long way, factoring in the current trends and considering the job market. With enough data, it is possible to predict various candidates' metrics.
For instance, the sourcing channel where your job multi-poster performs well can be forecast with the help of CRM features. Keeping that in mind, the hiring manager can focus their budget on the channel that brings in more candidates.
The hiring manager will analyse the data on the candidates present in the CRM to get an overall idea of what the job responsibilities should be on future job postings. This can help hiring managers and recruiters fine-tune their job advert to reach the maximum audience. CRM can help with much more than that.
Builds and Maintains Your Talent Pool
Not every applicant who applies for your open role makes it to the end of the recruitment process. But a good recruitment practice is to build a talent pool where you can still be in contact with your potential candidates. The talent pool you make can help you at a future time.
It is easy for you to engage and nurture your talent pool with CRM's data. In combination with a multi-poster, CRM has access to more information regarding the candidates enabling better management of the talent pool.
Timely communications with them will not be a problem with automated messages. You can nurture your talent pool by keeping their interest engaged, while helping them by giving information about your organisation, as well as the job they applied for.
Keeping them engaged and providing timely communication updates with the overall existing responsibilities is a tedious task. To handle all that, a CRM tool is necessary for recruiters.
Final Thoughts
Candidate relationship management can help handle the needs of your candidates and automate the communication. When used along with a multi-poster. They can offer numerous functions to make the recruiter's life easier. Integrating them both and using them can help you use all the benefits of CRM for your recruitment needs.
---
Voyager Infinity and Voyager Mid-Office are software solutions that make Recruiters' lives easier. Voyager Infinity is a CRM used by thousands of recruiters globally to source, nurture and maintain the relationships with their clients and candidates, and Mid-Office manages the entire Pay and Bill process (IR35 ready).
---