The positive impact of migrating to a new Recruitment CRM can be transformational, but get it wrong and it can be painful at best, and at worst terminal for the Agency.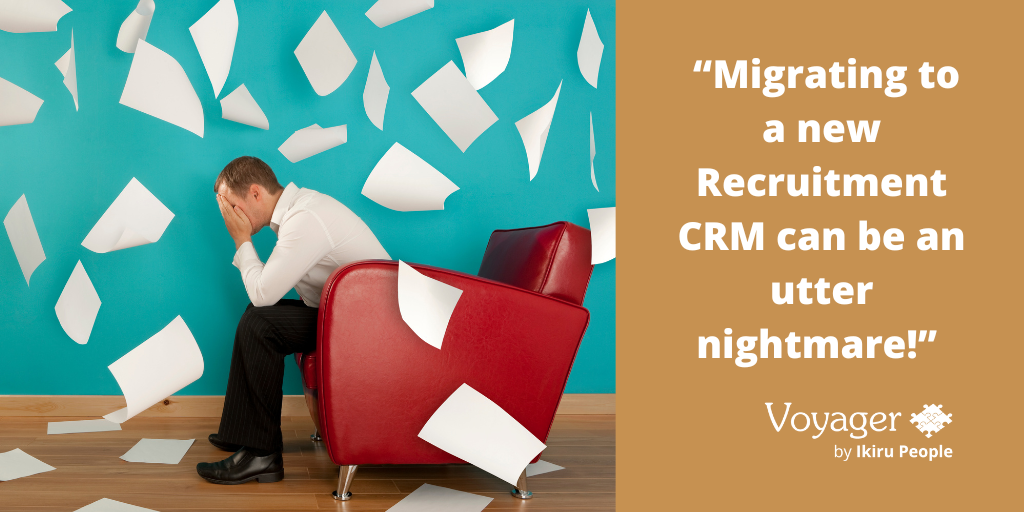 Whilst we'd be open enough to say that not all implementations are seamless, we're happy to boast hundreds of successful migrations year on year – and for over two decades.
Transitioning to new methods in the recruitment industry can prove to be a challenging undertaking. It's easy to overlook the distinctions when switching from familiar instruments to a new tool. Nonetheless, for the three agencies below that specialize in hiring personnel, the decision to switch to Voyager Infinity CRM has been deemed a significant one. Their testimonies regarding the move from prior solutions to Voyager Infinity CRM have been informative.

Our happy customer stories:
Simple Recruitment
Simple Recruitment switched over to using the Voyager Infinity platform. This migration resulted in considerable improvements to their operations. The company was thoroughly impressed with the level of aid they received throughout the entire process. From the invaluable guidance of Sales Representative Paul Thompson, to the expertise of the Data Migration team, and the assistance of Account Managers and Trainers such as Matt and Debbie, Simple Recruitment's experience was positive from beginning to end. Their ultimate decision was that the Ikiru People team and the Voyager Infinity team yielded a successful outcome.
Harrison Scott
The story of Harrison Scott is one that is both inspiring and remarkable. It is a tale of perseverance, determination, and the unwavering pursuit of excellence. Harrison Scott's journey began in humble circumstances, but through hard work and a fierce dedication to his craft, it has risen to become one of the most celebrated Agencies in its field. Its story serves as a testament to the power of passion, and the endless possibilities that exist when one refuses to give up on their dreams.
George Thompson of Harrison Scott Recruitment found that, by transitioning to the Voyager Infinity platform, they were introduced to fresh possibilities. The team at Ikiru People was instrumental in providing exceptional support, and the switch was made easier due to the speed and effectiveness of their business operations. In conclusion, Harrison Scott's recommendation is for a more rapid and efficient journey that is marked by positivity.
Sphere Solutions
In a span of 8 weeks, the Sphere Solutions team was tasked with the challenge of transporting over 50 recruiters to 5 different locations, including a full-time team, to the Voyager Infinity solution. Initially, this proved to be a difficult feat, but the dedicated Ikiru People team provided support and guidance, allowing them to overcome the obstacles. Vikki, a representative of Sphere Solutions, acknowledges the stress of traveling but emphasizes the importance of having a team that is supportive and solution-oriented. Her advice to those facing similar issues is to reach out to Paul Thompson at Ikiru People to address any service or functionality-related problems within their recruitment business.

The advantages of transitioning to Voyager Infinity CRM are underscored by true accounts of its benefits. These stories highlight the upgrade in services, the amplified support, the expanded functionality, and the availability of a committed team. These agencies experienced a significant transformation after making the migration.
If you're interested in moving from your existing CRM supplier, or just wanted a chat about the things that can go wrong it not properly planned reach out to Paul.Thompson@ikirupeople.com for a chat.
But take confidence from those ahead of you, there is a better way.
Don't wait any longer; seize the opportunities of today!
---
Voyager Infinity and Voyager Mid-Office are software solutions that make Recruiters' lives easier. Voyager Infinity is a CRM used by thousands of recruiters globally to source, nurture and maintain the relationships with their clients and candidates, and Mid-Office manages the entire Pay and Bill process (IR35 ready).
---