Are we seeing the rise of the gig economy? I have spoken to many recruiters placing full-time workers in part-time evening jobs, such as Project Managers working in hospitality in the evening and on weekends.
When skills shortage continues to pose a challenge for recruiters, perhaps the answer lies in expanding the talent market and looking beyond the usual pool of candidates.
Research states that 15% of workers in England and Wales use the gig economy platforms at least once a week.
Undertaking a new profession, trying out a hobby, or simply supplementing income – there's a myriad of reasons for people taking on second jobs these days.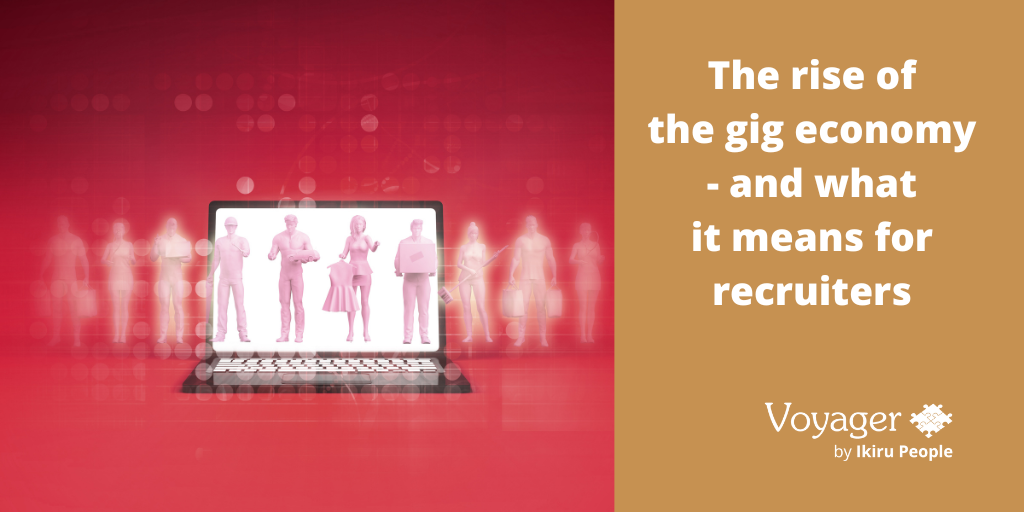 What does the gig economy mean for recruitment?
Gig economy workers do short, contract-based roles. For those taking up second jobs, these new roles might be something they are doing after work in the evenings or on weekends.
Instead of struggling to fill a vacancy with a full-time staff, companies can get recruiters to find talented, professional and motivated individuals on a part-time or contract basis. Recruiters can tap into their existing talent pool to locate skilled people, even if they are already employed elsewhere, and approach them for a gig. It can have a huge appeal for people who might be considering trying something new but didn't know where to start.
Most qualified, skilled workers might be seeking independence and creativity in their second jobs that they wouldn't normally get from their main jobs. Other workers might prioritise better pay or flexibility when they take up second jobs.
The talent pool becomes bigger. This allows recruiters to work with minimal constraints and achieve better results. 

Forward-thinking recruiters spotting a niche!
As an increasing number of people examine if their current employer is meeting all their needs, they are taking a long-term view regarding their professional growth and present-day needs.
The pandemic has left us questioning what we truly want to do and how we want to spend our time. Therefore, it is not all that strange to see this massive movement in the employment industry with people changing jobs, switching industries, retraining, going back to school, etc.
Enterprising recruiters are already observing how the candidate skills shortage can be addressed through the gig economy sector.
If employers aren't offering everything we need right now, taking up a second job might be the answer rather than a different job and a new employer.
Technology has enabled workers to ease into new roles requiring only virtual presence to complete jobs. Furthermore, opportunities have also opened up due to hybrid working.
So, even while the work from home debate rages on with many businesses having adopted long-term plans for hybrid work schedules, many office workers are enjoying the flexibility and the work-life balance by virtue of this arrangement.

Use your recruitment CRM software to engage with your best candidates
Recruiters don't need to look far and wide to find suitable candidates. You already have access to a wide variety of professionals with a repertoire of talent and experiences. Recruitment CRM systems are great for storing candidate data. If used prudently, these platforms can carry a wealth of candidate knowledge that can be extremely useful.
Recruiters are already familiar with how their CRM software is designed to make the recruiting process quick, smooth, and as painless as possible.
Now if perm recruiters want to foray into temp recruitment, then recruitment CRM systems like our Voyager Infinity temps software will be a smart choice. Placing temp staff is a bit different from recruiting perm employees. The hiring process is quicker, the decision-making time is shorter, and communication must be much swifter. Companies sometimes need extra staff at a moment's notice so having the right personnel and the tech support to produce the required results gives agencies a competitive advantage.
With Infinity temps software, recruiters can use the online booking sheets, shift planners and placement dashboards to look into candidate availability, carry out compliance checks and log communication notes. It drastically reduces the time and effort it would take a recruiter to find and place suitable candidates into these short-term jobs.
It is estimated that 7.25 million people will be working in the gig economy by the end of 2022. Resourceful recruiters are ready to grasp the opportunity and tap this market. Are you prepared to leverage this opportunity, too?
---
Voyager Infinity and Voyager Mid-Office are software solutions that make Recruiters' lives easier. Voyager Infinity is a CRM used by thousands of recruiters globally to source, nurture and maintain the relationships with their clients and candidates, and Mid-Office manages the entire Pay and Bill process (IR35 ready).
---