Recruitment is a fast-moving and complex industry that is primarily dependent on collaboration. Whether you're a part of a large organisation or a small business, effective teamwork is essential to success, and Voyager Infinity can help with collaboration within your recruitment team.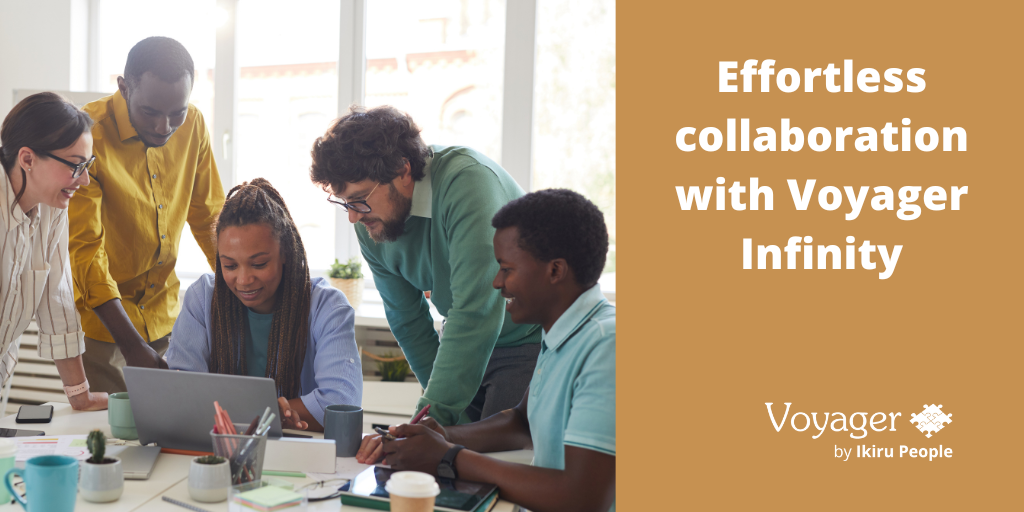 The challenges facing recruitment agencies
Data dispersed across systems: Candidate information may be spread across multiple databases, spreadsheets, or paperwork. This makes it difficult to access or share important data.
Communication gaps: During communication via emails, calls, and other messaging systems, crucial information can be misinterpreted or lost, which leads to misunderstandings and inefficiencies.
Productivity limitations: Wasting precious time on admin tasks can both slow down the recruitment process and negatively affect productivity.

Here's how Voyager Infinity promotes teamwork:
Centralised candidate hub
With Voyager Infinity, all possible candidates are held in a single centralised location. This means that every member of the team can access the same recent information. Whether it's a recruiting professional looking for a candidate's qualifications or an account manager that is checking on the latest interactions with clients, the information is easily accessible.
Effective internal communication
Voyager Infinity offers internal communication tools where team members can discuss potential candidates, share their thoughts, and coordinate actions. This simplified communication method keeps everyone involved and ensures that crucial information isn't missed.
Increased productivity
By centralizing the profiles of potential candidates and improving communication, Voyager Infinity has a significant effect on the productivity of the team. Recruiters have a natural talent for focusing on their greatest abilities—sourcing and connecting with candidates—while account managers and other back-office employees have easy access to the information they need to support assignments.
Throughout the process, every member of the team is on the same page; they work together to smoothly move the candidate through the recruitment process. No pauses, no misinterpretations, and no data discrepancies- just effective, efficient collaboration.
Recruitment is a collective endeavour, and Voyager Infinity recognizes the value of collaboration in order to achieve recruitment goals. By centralising candidate profiles, improving internal communication, and increasing overall productivity of the team, Voyager Infinity facilitates collaboration within your team.
---
Voyager Infinity and Voyager Mid-Office are software solutions that make Recruiters' lives easier. Voyager Infinity is a CRM used by thousands of recruiters globally to source, nurture and maintain the relationships with their clients and candidates, and Mid-Office manages the entire Pay and Bill process (IR35 ready).
---